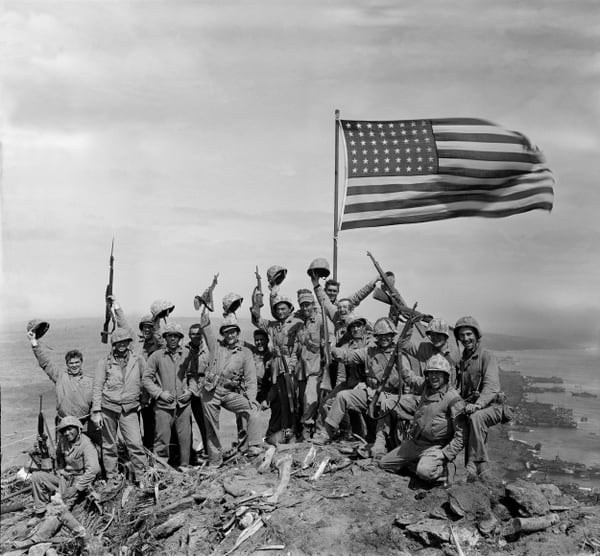 Happy Memorial Day!  You know if you reflect on that rather simple greeting, "Happy Memorial Day," it might be a little confusing for a moment.  We are saying something like, "Have a happy day reflecting on the memories of those who have died for our country."  Some might think this just seems too difficult or even contradictory in itself.
Consider the biblical character Job.  At one point Job says to his wife, "We receive good from God, and should we not also accept evil?"  In other words, God gives all of the gifts that we receive and should we not also accept that He takes them back at some point?  It is faith that helps Job believe that this accepting of evil (giving back to God His own gifts) will all work for his benefit.  In his commentary on Job, St. Gregory the Great recites the portion of Ecclesiastes where it says "On the day of prosperity do not forget affliction, and on the day of affliction do not forget prosperity."  Gregory goes on to state that if we forget our affliction in the good times we can fall through excessive joy – perhaps in being imprudent by failing to consider the transitory nature of the gifts we receive.  On the other hand, it is good to be consoled when we are afflicted with memory of past blessings and the knowledge that blessings may be bestowed again lest we fall into despair.
Truly, we do give everything back to God – even people.  We cannot hold on to even these greatest of His blessings.  And yet Memorial Day today is a beautiful day.  It is a bright, sunny day.  Many of us will be with loved ones who are present and consider those who have gone before and particularly those who have made the ultimate sacrifice.
Our position is not unlike the man in the Gospel today.  Christ tells him to sell what he has and give to the poor and come after him if he desires eternal life.  Christ bids us to have the same detachment.  Now, the man sees what he has and is not ready to let anything go.  We ultimately do not know what happens in the end.  It is impossible for him alone, but if the Holy Spirit can open his eyes to see that he can't take it with him….maybe at one point he does give it all and follow Christ.
The men and women of the military are ready to give their lives.  May it be that they desire to give them up not only for a noble purpose (defense of our homeland), but to Our Lord.  We pray that those who have already done so may receive everything back one hundredfold through the Resurrection of Jesus Christ from the dead.  He is their inheritance that is imperishable, undefiled, and unfading.  May they rest in peace.